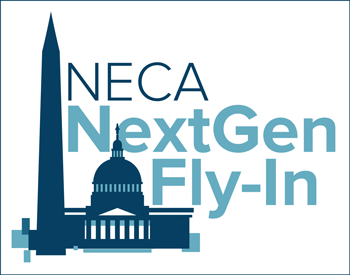 The purpose of this program is to cultivate the next generation of NECA's national network of political advocates and to promote our industry's legislative priorities

An ideal candidate to attend this conference would:

Want to learn more about the political process
Have an interest in meeting with your legislators on Capitol Hill
Be a rising executive in your NECA member company
Never have attended the NECA National Legislative Conference
Attendees will receive ample opportunity to participate and a deeper understanding of the legislative process. To achieve this, attendance is capped at 30 people.
We recommend one representative per member company.
General Meeting Materials
Legislative Position Papers
Schedule of Events
Tuesday, June 6, 2023
1:30 - 2:00 p.m.

Registration and Capitol Hill Meeting Desk
Location: NECA HQ: 1201 Pennsylvania Ave. NW, Suite 1200, Washington, DC 20004

2:00 - 4:45 p.m.

NECA Policy Briefing
Location: NECA HQ

2:00 p.m.

Intro to NECA Government Affairs

Marco Giamberardino, NECA
Jessica Cardenas, NECA
Hadlea Bender, NECA
Jared Karbowsky, NECA
Julia Convertini, NECA

2:20 p.m.

Tips and Best Practices for Capitol Hill Meetings

Anna Platt, Public Affairs Council

3:00 p.m.

The Importance of Building Relationships

Mark Mazur, MJM Electric, Chairman, Political Leadership Council

3:15 p.m.

NECA Legislative Issue Update

Marco Giamberardino, NECA

Jared Karbowsky, NECA
Julia Convertini, NECA
Frank McCarthy, McCarthy Advanced Consulting

4:00 p.m.

Chiefs of Staff Panel

4:45 p.m.

Closing Remarks

Don Laffoon, Electrical Corporation of America, Chairman, Government Affairs Committee

5:00 - 7:00 p.m.

Welcome Reception & Dinner
Location: NECA HQ Rooftop

7:00 p.m.

Capitol Tour
Location: United States Capitol

Led by Congressman Donald Norcross (D-NJ)
Wednesday, June 7, 2023
(NOTE: All meetings are on Capitol Hill, Unless Otherwise Specified)
8:00 - 10:00 a.m.

NECA's "Policy for Breakfast"
Location: 2043 Rayburn Room, Rayburn House Office Building, 45 Independence Ave. SW




Remarks by The Honorable Brian Fitzpatrick (R-PA)

Remarks by The Honorable Pete Stauber (R-MN)

Remarks by The Honorable John Garamendi (D-CA)

10:00 a.m. - 4:30 p.m.

Capitol Hill Meetings (As Scheduled)
Location: Capitol Hill Office Building
NOTE: Light refreshments and briefing materials will be available at the NECA Capitol Hill Office: 412 First St. SE, Suite #110

4:30 - 6:30 p.m.


Congressional Reception
Location: Indian Gaming Association: 224 2nd St. SE

7:05 p.m.

Networking Event at Nationals Park
Arizona Diamondback v. Washington Nationals
Transportation Provided