NECA Legislative Top Three 4/19/19: Tax Day Message & House Leaders Address NECA Conferences
Apr 18, 2019
1. NECA CEO Issues Statement on Tax Day
April 15, 2019 marked the first Tax Day under the new tax code created in the NECA-supported Tax Cuts and Jobs Act (TCJA). To mark the occasion, NECA CEO David Long issued a statement.
NECA's Look Ahead: NECA contractors are seeing many benefits from the TCJA. It is our goal to make sure that our contractors will continue to see the benefits for years to come. That is why NECA has shifted efforts to focus our tax advocacy on permanency of the TCJA, specifically Section 199A. Last week, we signed onto a coalition letter enforcing the efforts of many of our congressional champions to make sure that the tax code remains business friendly.
2. Rep. Tim Walberg Speaks at NECA's Labor Relations Conference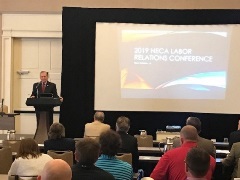 On April 16, 2019, Ranking Member of the House Education and Labor Subcommittee on Health, Education, Labor and Pensions, Tim Walberg (R-MI), spoke to the NECA Labor Relations Conference in New Orleans, Louisiana. The Congressman, whose role on the committee places the issue of multiemployer pensions under his purview, spent time speaking to those challenges and the ever-imposing dangers of continued inaction. He showed an adept understanding of the small business perspective and the need to address the future of defined benefit plans. Rep. Walberg then urged the need for an expansive infrastructure legislative package, which he believes to be an area for bipartisan success.
NECA's Look Ahead: The Congressman's remarks were well received, and he gave a clear outline for positive action in an otherwise gridlocked Congress. NECA looks forward to the prospect of continuing our work alongside Rep. Walberg and were honored to have him as our keynote speaker.
3. Rep. Nydia Velázquez to Speak at National Legislative Conference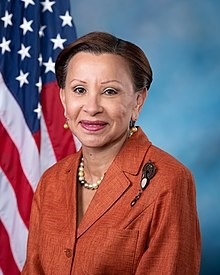 Rep. Nydia Velázquez (D-NY), Chair of the House Committee on Small Business, will speak at this year's National Legislative Conference. Rep. Velázquez is currently serving her fourteenth term as Representative for New York's 7th Congressional District. In the 116th Congress, she is the Chairwoman of the House Small Business Committee, a senior member of the Financial Services Committee and a member of the House Committee on Natural Resources.
NECA's Look Ahead: As the top Democrat on the House Small Business Committee, which oversees federal programs and contracts totaling $200 billion annually, Congresswoman Velázquez has been a vocal advocate of American small business and entrepreneurship. She has established numerous small business legislative priorities, encompassing the areas of tax, regulations, access to capital, federal contracting opportunities, trade, technology, health care and pension reform, among others. We look forward to Chairwoman Velázquez's remarks at the 2019 NECA Legislative Conference.