NECA and ELECTRI International Signs Registered Apprenticeship Agreement with U.S. Department of Labor
Nov 15, 2023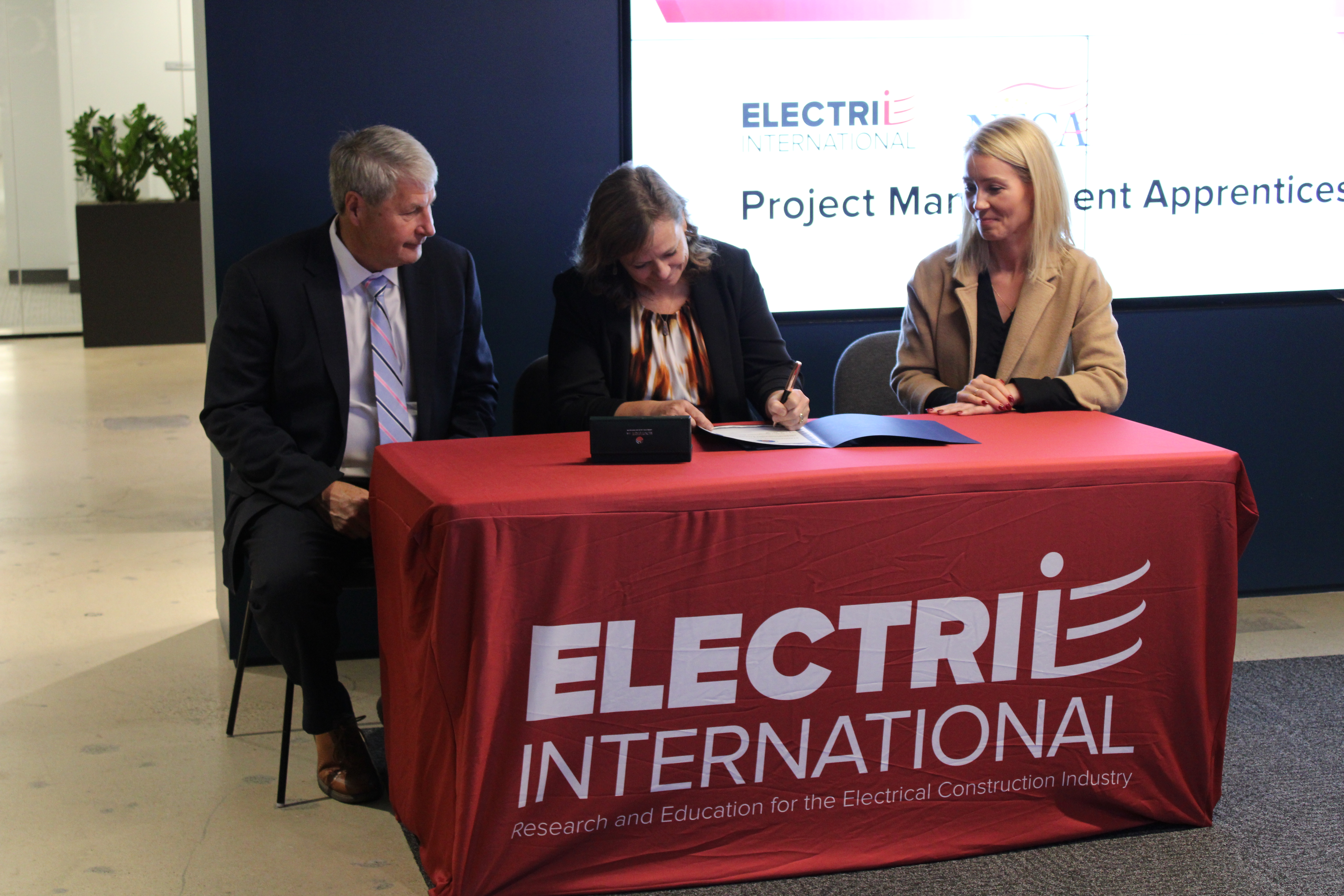 WASHINGTON, D.C.- In partnership with the U.S. Department of Labor, the National Electrical Contractors Association (NECA) and its non-profit foundation for electrical construction, ELECTRI International, have launched a much-needed project management workforce pipeline.
A signing ceremony was held Tuesday, November 14th, 2023, to announce ELECTRI's 'Project Management Apprenticeship' as the National Guidelines for Apprenticeship Standards—which states can adopt as a Registered Apprenticeship Program (RAP). This will verify a pathway for high-quality training and internship experience to enhance the appeal and interest of entering the construction management field. This nationwide program will provide real-world experiences through the duration of a year, requiring 2,000 on-the-job training hours and 180-300 related instruction hours online.
ELECTRI has created these National Guidelines for Apprenticeship Standards to help our NECA chapters and contractors train the next generation of industry professionals. "This new Project Management Apprenticeship program is revolutionary, allowing leaders in all stages of their lives, to develop into the industry giants of tomorrow," exclaimed NECA CEO David Long. "Addressing the evolving need for office roles like project managers and estimators is critical for the overall efficiency of contractors and our trade."
There is a dire need for construction managers and office personnel in the United States. In order to keep up with the nation's growth, on top of current infrastructure demands, an average of 38,700 construction managers will need to be hired each year from 2022 through 2032. "This apprenticeship will provide a direct path not only to high school students but also candidates seeking a career change, allowing them to begin a career in an industry that is expected to grow to a more than $228 billion industry in the U.S. by 2028," said Kellie Holland, ELECTRI Council Chair and President of Empire Electric, Inc.
The same demand is predicted for project management specialists (assistant project managers). The Bureau of Labor Statistics projects a need to fill about 68,100 project management specialist positions, on average, each year from 2022 through 2032. Many of those openings are expected to result from the need to replace workers who transfer to different occupations or exit the labor force, such as to retire. "My company, Empire Electric, is ready and welcomes the opportunity to provide development and career advancement to candidates once our Office of Apprenticeship and Training approves the program in Colorado," said Holland.
Apprenticeship Structure:
Once an individual NECA chapter has registered the program with their state Department of Labor (DOL), the hosting contractor can begin accepting apprentices. The contractor will be responsible for tracking the progress of the apprentice throughout the program and submitting progress reports to the local NECA chapter for record keeping.
Interested Host Contractors:
Contact your local NECA Chapter Manager and express your interest in partaking in this Project Management Apprenticeship Program. Chapters need to reach out to their state DOL with specific documents and information listed on ELECTRI's Project Management Apprenticeship website.
Once the state DOL connects with the local NECA chapter, the local NECA chapter can work with the DOL to tailor the National Guideline Standards (NGS) to fit the needs of the contractors in their state. On average, the state DOL can take 1-6 months to complete the registration process.
Interested Apprenticeship Applicants:
To become an apprentice, contact Anna Jochim, ELECTRI's Director of Future Workforce Development, through the contact form at the bottom of ELECTRI's Project Management Apprenticeship website.