Electrical Contractors' Premier Convention and Trade Show Heads to Austin in October
Jun 27, 2022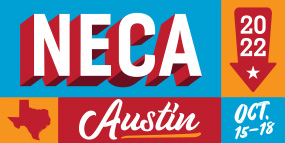 The National Electrical Contractors Association (NECA) is excited to announce that registration is open for the 2022 NECA Convention and Trade Show in Austin, Texas. This year's convention, held Oct. 15-18, reunites the electrical construction industry for the trade's premier event. Attendees will gain access to industry-leading education, outstanding keynote speakers, peer-to-peer networking, unforgettable entertainment, and North America's largest electrical construction trade show.
NECA 2022 Austin will feature a virtual option, making every education session available to all registrants. Whether in-person or virtual, all attendees will have access to on-demand content following the convention.
"All of us at NECA are incredibly excited to welcome the entire industry together for another memorable Convention and Trade Show," NECA CEO David Long said. "NECA 2022 Austin is set to become the largest event in our association's history, connecting attendees with more products and services, more education, and more opportunities to unite with industry colleagues than ever before. This year goes beyond the imaginable, all to support electrical construction and take our contractors to unprecedented heights in a city we have never hosted in before."
Visit necaconvention.org for complete details on NECA 2022 Austin, including a schedule and details on registration.