Special Lineman Appreciation Day Announcement from NECA President Larry Beltramo
Apr 18, 2019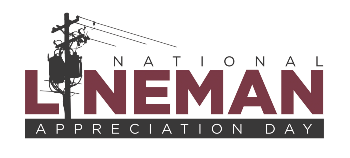 Today marks an important day for the National Electrical Contractors Association (NECA). It's the day we salute a special group of men and women who are recognized on National Lineman Appreciation Day. Linemen are integral to who we are as an industry. How can you not be impressed with their training and commitment to their craft?
Our electrical infrastructure is spread across the US Territories and when you consider the millions of transmission towers, poles and substations in service in the U.S. today, it's amazing to think about the work linemen have done throughout our history to help build the America we live in today. And that continues right now. Constructing and maintaining the electrical power grid is hard work and must be done safely. On top of that, linemen serve as first responders during emergencies and are on the front lines of disaster preparedness and relief efforts, oftentimes at significant risk to their own well-being. My sincere gratitude and respect for what linemen accomplish deepens every day.
It certainly was evident last fall at NECA 2018 Philadelphia, where our Lineman Pavilion honored the role of outside linemen in electrical construction. I have met many linemen over the years, and I know they will keep empowering lives and communities all over the country. As NECA's president, I want to commend the thousands of highly skilled and devoted linemen employed by NECA contractors. If you know a lineman, thank them. If you are a lineman, thank you. You are doing a tremendous job.
With great respect,







Larry Beltramo, President
National Electrical Contractors Association
President/COO, Rosendin Electric Inc.
San Jose, CA