Registration Opens for the 2023 MEP Innovation Conference
Sep 7, 2022
NECA, MCAA, and SMACNA have partnered to host the 2023 MEP Innovation Conference. This three-day event, held in Austin, Texas, joins innovative thought leaders across the electrical, mechanical, and sheet metal trades to improve MEP contractors' profitability and productivity.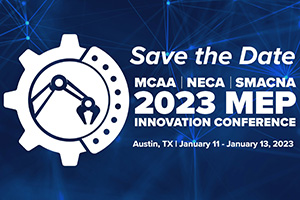 Attendees will engage in innovative presentations, collective roundtable discussions, and hands-on exhibitor demonstrations highlighting emerging technologies. The MEP Innovation Conference offers sessions for all levels of experience, open to all members of NECA, MCAA, SMACNA, and their union counterparts.

Contractors from all three trade associations will lead the sessions geared toward operations, VDC, project management, estimating, training for BIM, and more. These case studies will inform participants how new and innovative software, tools, and technology are changing the industry and positively impacting contractors of all sizes.

Innovation has become a key component across all trades. The MEP Innovation Conference encourages collaboration among the different trades to recognize the common problems and develop solutions where contractors reach the common goal together.

Register now at mepconference.org.