NECA Innovation Institute Celebrates Edison Cohort Graduation
Aug 10, 2022
The NECA Innovation Institute held its first graduation ceremony on Tuesday in Washington, D.C. The Edison Cohort, consisting of 10 promising executives for their respective member contractors, met over the past year to identify best practices and execute innovative techniques to elevate business. The participants' executive sponsors joined them for the commencement. The Institute's curriculum separates into four-month phases where participants recognize company opportunities, explore and develop innovative solutions, and perform and sustain by scaling work and evolving tactics.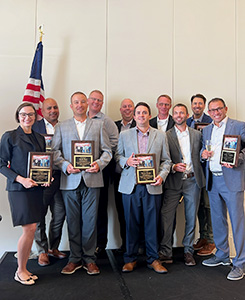 The group presented their capstone projects, where pioneers apply innovative techniques for an internal priority within their organizations.
"There have been quite a few presentations on training and the need for training," said Kirk Wahlstrom, Group Manager of Building Operation at Egan Company. "It's interesting to see that across ten companies in the country, revealing that training and bringing people forward is the key. It's all about the people."
Wahlstrom said the biggest takeaway from the NECA Innovation Institute was the chance to grow personally and professionally.
"If you are doing better yourself and growing in your role, that reflects upon your company, and we're all benefitting," Wahlstrom said. "What I'm trying to instill in going back to Egan is that everybody has to have the next step."
Brian Morales, President/CEO of ProCal Lighting, sponsored Director of Business Development Denise Devine to master other contractors' best practices and improve industry knowledge.
"This is a great initiative, and a lot of companies are going to benefit from the Institute," said Morales. "With this cohort, having somebody knowledgeable in systems and planning helps us become more focused."
Nick Rol, Director of Electrical Service at Thompson, has learned to manage and lead others to perform at the highest level.
"It's helped me drive change and implementation within Thompson," Rol said. "It's been a great sense of accomplishment, and it's been a wonderful experience."
A unifying theme of the Edison Cohort has been the relationships created to learn various processes and champion change. The group built a culture around their personalities and mentalities to facilitate a diverse, well-rounded environment.
"We appreciate the support, and we appreciate the community," Morales said. "NECA is a great place for any contractor to grow and become a great company."
If you're interested in participating in the NECA Innovation Institute, visit https://www.surveymonkey.com/r/NECAInnovationInstitute.