NECA Represented at National Training Institute Graduation
Aug 9, 2022
Laura Dayfield and Dave Orman, NECA Midwestern Region Field Representatives, and Mike Starner, NECA Executive Director of Outside Line Safety, graduated from the Vibrant Organizations through Leadership Training (VOLT) Academy at the National Training Institute (NTI) held in Ann Arbor, Michigan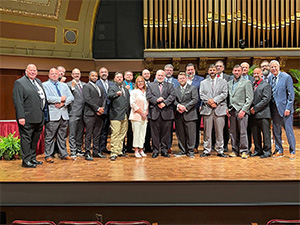 The VOLT Academy equips future electrical construction leaders from different perspectives with critical thinking, collaborative negotiation, and communication skills. The one-year program had three meetings centered on negotiation and negotiation styles, rebuilds after storm damage, and successes and failures in leadership. The meetings culminated in capstone presentations at NTI, where a representative from each respective organization grouped to discuss market share, apprenticeships, and trials and errors from workforce development.

Promoting industry networking, the VOLT Academy encourages collaboration among NECA, the IBEW, and joint organizations to reach common goals.

"It allowed us a safe space to have open conversations with the business agents, chapter executives, and training directors to ask questions I couldn't ask my local partners," Orman said. "It's created lifelong connections with folks on the other side."

Participants in the cohort visited different sites to reflect on real-world, positive, and negative instances of leadership. It sparked conversations on the importance of Diversity, Equity, Inclusion, and Belonging and why both sides need to be present and proactive in electrical construction. By contributing to team-building exercises and presentations, this graduation class will apply their lessons to leave the industry better than they found.

Starner said that the biggest takeaway from VOLT Academy was the relationships created by working together to solve construction's biggest challenges.

"It's labor, management, and training coming together to produce the best electricians in the world," Starner said. "We have to find creative, innovative ways to get apprentices through the programs and continue our education."

Dayfield, Orman, and Starner were among 21 graduates from the 6th cohort of the VOLT Academy. Richard Barnes, Instructor for the Academy, led the cohort's graduation.

"We have a monumental task," Starner said. "We must perform more work than we've ever performed in the past."