Rick Electric, Inc. and Border States Bring Workers Together with Luncheon
Jul 25, 2022
NECA contractor Rick Electric, Inc. and NECA Ambassador Partner Border States teamed up to give back to their people in the field with a luncheon at the North Dakota State University (NDSU) Football Performance Complex for all onsite construction workers.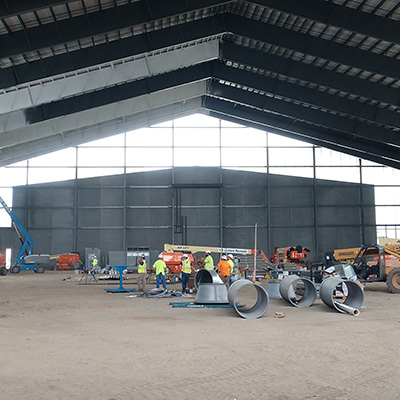 The complex, which is set to be completed this fall, includes two 120-yard football fields with artificial turf, LED lighting, sound systems, scoreboards, clocks, and camera platforms, among many features. The complex is valued at $50 million, and the electrical contract is $3 million.

Border States collaborates with Rick Electric, Inc. to supply a major supply of products. Treavor Peterson, Branch Manager for Border States, said he appreciates the ability to be involved in the community and the electricians who use their materials.
"With the weather in North Dakota, the construction workers are strong in every condition possible," said Peterson, who described intense humid summers and subzero-degree winters. "They're the ones building our community, so we want to take an opportunity to say thanks."

Greg Rick, President of Rick Electric, Inc., celebrates his partnership with Border States and appreciates the opportunity to bring everybody together.

"It's about appreciation and camaraderie in what our electricians do, and Border States is a great company we've done business with for 50 years," Greg said. "It's a thank you to our electricians and all other construction workers, and it's for their goodwill on the construction site amongst them."

Learn more about Rick Electric, Inc.: https://www.rickelectric.com

Learn more about Border States: http://borderstates.com