NECA Now 2021 Connected Members to Education and High-Profile Speakers
Apr 15, 2021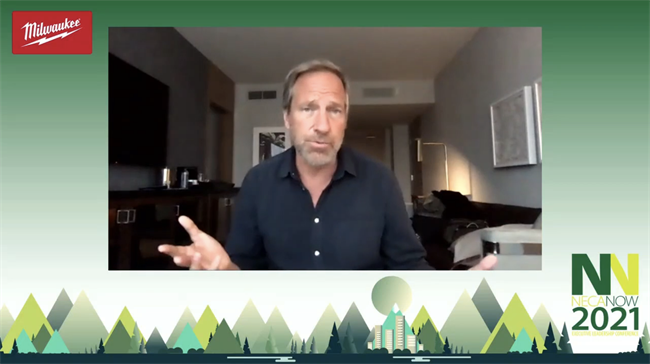 For the first time ever, NECA Now—the National Electrical Contractors Association's executive leadership conference—went virtual April 13–14 and continued to establish NECA's place as an industry leader in the realm of virtual meetings and events. For two days, NECA members from across the association experienced sessions with sought-after speakers, interactive entertainment, a virtual exhibit hall and more.
Day one began with Marcus Lemonis, chairperson of Camping World and host of CNBC's "The Profit," discussing his philosophy behind managing tens of thousands of employees and the importance of mental health in challenging times such as the past year. He stressed the importance of being an open book for employees in times such as these, and his own challenges with this isolation.
"At the end of the day we're all responsible for somebody, regardless of the size of the business," Lemonis said during his session. "Those people are looking to us to be eradicated of fear; they're looking to us for some emblem of hope. And in this moment—much like when you're grieving the loss of a family member—somebody needs to put their own personal issues aside as best they can and tend to those that they're responsible for."
The show continued with education sessions, a virtual exhibit hall featuring NECA's 12 Premier Partners showing off their industry-leading solutions. At the end of the day, Steve Pemberton, chief people officer at Workhuman, told his story of growing up in foster care and his views on how we should focus not on visible characteristics but on the different life experiences diversity can bring to the workplace.
Day two included the same level of high-level education, a lunch presentation from Masters of Wine candidate Mike Kush, and a plenary session from Lisa Sun, founder of the retail and confidence brand Gravitas. The day concluded with a highly anticipated conversation with Mike Rowe, executive producer and host, best known from the hit TV series "Dirty Jobs." He discussed his passion for reinvigorating the trades, and how his foundation mikeroweWORKS has helped to promote this path to younger generations.
"We have to stop using the skilled trades as vocational consolation prizes," Rowe said during his session. "A big part of what I try and do is make a more persuasive case for good jobs that actually exist."
While plans are in place for an in-person NECA Convention in Nashville this October, NECA Now illustrates NECA's commitment to providing top-notch virtual events to its members and the industry. As such, hybrid options will be available for future NECA events.