NECA 2020 LIVE: NECAPAC Appreciates Your Support
Oct 8, 2020
Help NECAPAC Break Records
The support from NECA members before and during NECA 2020 LIVE has been incredible and got NECAPAC back on track, but we are not done yet! At the first ever NECA 2020 LIVE, we raised $63,000. We still need your help to break records before Election Day!
We are just 25 days away from the election and NECAPAC continues to make critical investments in key races to ensure our legislative champions remain in Congress. NECA contractors across the country are coming together to protect the industry and make their voice heard in this election. Be on the lookout for our election and policy updates leading up to November 3rd!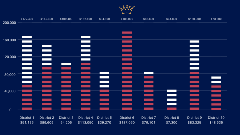 In Case You Missed It: Policy and Politics Education
Session
Trevor Falk and James Farrell hosted an education session during NECA 2020 LIVE. They dove into the top issues and legislative work that NECA's government affairs team has been involved in this year. If you would like to go back and view this session, the recording will be available on the NECA 2020 LIVE platform until November 15, 2020.
NECA Members Won BIG with the NECAPAC Sweepstakes!
Steve Diamond of Malko Electric
Larry Clennon of Clennon Electric Company
Dick Frahler of Frahler Electric Company
Mike Holmes of Holmes Electric
Jerry Hayes of United Electric Company
James Prusinski of Pace Electric Inc.
Lafe Lyons of Hatzel & Buehler Inc.
John Benevento of Herbst Electric Company
Kirk Davis of Bob Davis Electric Co.
Robert Flurer of Skeels Electric Company
Thank you for your support of NECAPAC!