NECA Releases Revised Standard for Installing and Maintaining Electric Vehicle Supply Equipment (EVSE)
Jan 31, 2020
NECA 413- 2019, Standard for Installing and Maintaining Electric Vehicle Supply Equipment (EVSE) is the latest revision in the National Electrical Installation Standards (NEIS®) series published by the National Electrical Contractors Association (NECA).
This ANSI Accredited Standard provides the essentials needed to complete a consistently safe, sound and successful electrical vehicle supply equipment (EVSE) installation and includes a review of the various EVSE types, quality and performance aspects of charging station installation and necessary steps that must be performed to ensure system capacity of electrical power sources and service equipment, and the safe installation of EVSE branch circuits and feeders.
NECA 413 includes installation guidelines and checklists to assist contractors, installers and inspectors and addresses how to comply with regulatory agencies and state rules required to obtain work permits and inspections, it also lists the applicable National Electrical Code®(NEC®) installation requirements that must be applied. This includes the quality and workmanship standards, and product safety standards.
The 2019 revision continues to address the need to perform an effective site (electrical system) assessment prior to EVSE installation. It also includes procedures for installing and maintaining AC Level 1, AC Level 2 and fast charging DC (initially known in the industry as AC Level 3 and currently known in the industry as DC Level2) Electric Vehicle Supply Equipment (EVSE).
"The EVSE market has grown over the past few years and the revised edition of NECA 413 not only provides the guideline for a safe and successful installation, it accounts for new and revised regulatory and Code applications." stated Michael Johnston, NECA's Executive Director of Standards and Safety. Johnston also emphasized that "NECA's National Electrical Installation Standards (NEIS®) are continuously evolving to address these new technologies and assist those in the electrical designing and engineering communities with successfully designing, maintaining and installing electrical equipment."
ORDERING INFORMATION: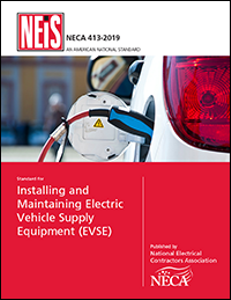 NECA 413-2019 Standard for Installing and Maintaining Electric Vehicle Supply Equipment (EVSE) (Index# NECA 413-19) is available for purchase in digital (PDF) or print format in the NECA Store and is priced at $25 for NECA members and $55 for non-members.

Visit the NECA Store at NECAStore.com to purchase, or contact the NECA Order Desk at (301) 215-4504, [email protected]. Bulk pricing is available.

Buy Now