Newest NECA Boston Chapter Member Completes Residential Projects for Beacon Hill, Intercontinental Hotel, Westwood and Norwell, Mass.
Dec 2, 2019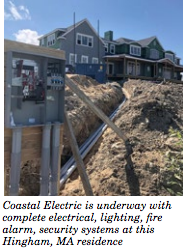 The Boston Chapter NECA has highlighted Coastal Electric, Inc., based in Cohasset, Mass., for specializing in market sectors not often covered by significant industry associations.

Coastal Electric recently completed electrical work for high-end residential projects at Phillips Street on Beacon Hill, residences in Norwell and Westwood, Mass., and the Intercontinental Hotel. The company's principal, Patrick Daly, opened the full-service electrical contracting business in October 2018 at age 22.
LEARN MORE ABOUT THE PROJECTS