Failure to Properly Collect and Maintain Federal I-9 Forms Can Be Costly; and Chances are Rising that You Will Be Audited
Oct 8, 2019
Employers can be fined for incomplete or inaccurate forms, missing deadlines, or even for using the wrong version
Fines can range from $230 to $2,292 per form for "Substantive/Uncorrected Technical Violations" and up to $20,130 for "Knowingly Hiring" unauthorized workers
DHS/ICE have more than tripled enforcement actions
Employers may be caught between federal and state laws
Visit https://www.uscis.gov/i-9 for the form and instructions
All contractors should be aware of the requirement to have new hires complete the I-9 Form. Contractors should be aware that both those new workers and the employers are subject to penalties if the forms are fraudulent, incorrect, or even just incomplete. And now, you should also be aware that the government has stepped up its efforts to enforce the I-9 rules through increased employer audits.
While it appears simple, the I-9 Form can actually be a complicated document to properly complete. The government has made changes to the form in an attempt to make it easier, but this has not been the result, and the form still remains difficult. And, a perhaps unintended consequence of these attempts to "fix" the form is that employers are required to remain aware of when the revisions are made and always use the current forms, rather than the forms they have always used. Frustratingly, but not all that surprising, the current I-9 form available on the US Citizenship and Immigration Services "I-9 Central" website expired on August 31, 2019. The government is at work revising the form, but until it is finished, USCIS directs employers to continue using the Form I-9 currently available on I-9 Central. The USCIS will provide updated information about the new version of the Form I-9 as it becomes available. Employers need to keep alert for any information concerning the updated form.
Enhanced Enforcement
According to ICE, in fiscal year 2017 (October 2016 – September 2017) there were 1,716 worksite investigations, 1,360 I-9 audits, and 311 criminal and administrative arrests. The following year, there were 6,093 workplace investigations, 5,200 I-9 audits, and 1,669 criminal and administrative arrests – more than three-and-a-half times the prior year's activity. Investigations and audits are expected to continue at or above this level.
The first time an employer hears from ICE (or its Homeland Security Investigations arm) is when the employer receives a notice of inspection. "A notice of inspection alerts business owners that ICE is going to audit their hiring records to determine whether or not they are in compliance with the law. Employers are required to produce their company's I-9s within three business days, after which ICE will conduct an an inspection for compliance. If employers are not in compliance with the law, an I-9 inspection of their business will likely result in civil fines and could lay the groundwork for criminal prosecution, if they are knowingly violating the law." (from the ICE website)
There are many simple, technical violations that can occur, such as a misspelling, an incomplete address, failure to complete the form within the required timeframe, or, as noted, using the wrong version of the form. Employers are also at risk if they accept documentation that they know or should have known is suspect. Of course, knowingly hiring workers who are not eligible to work in the United States is a criminal offense.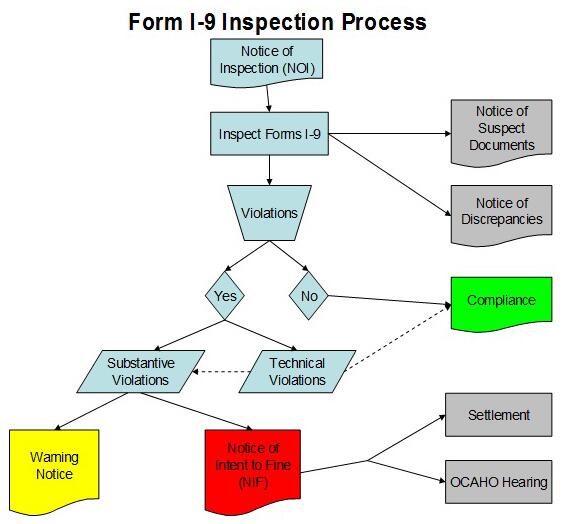 "Employers need to understand that the integrity of their employment records is just as important to the federal government as the integrity of their tax files and banking records."

View Form I-9 Inspection Process here
Contractors should make sure they are following the instructions for completing the I-9 forms. The requirement to collect and maintain I-9 forms is separate from the federal e-Verify program, which helps employers ascertain if applicants are eligible to work in the US. Being verified through this program does not mean that I-9 forms are not needed for that individual.
California and other states and local government have also created new concerns. California passed a law that became effective in 2018, the Immigrant Worker Protection Act (AB 450), that prohibits employers from voluntarily cooperating with ICE. In brief, under this law, employers are prohibited from and may be fined for allowing immigration enforcement agents into non-public areas of the workplace without a judicial warrant, and from allowing ICE agents to access, review or obtain employee records without a subpoena or judicial warrant. There is an exception to this requirement for the Notices of Inspection mentioned above. While California's law does not interfere with an employer's duty to comply with the Notice of Inspection, it does require employers to provide their employees with certain written notices when the employer is notified that it will be inspected by ICE.

Parts of these types of laws may be invalidated by the Courts, but some may survive. Therefore, employers must be sure that their office and field employees are aware of the I-9 requirements, as well as any restrictions that their state or local governments may have enacted.