Powering Chicago and Northwestern University Hold STEM Competition for High School Students
Oct 7, 2019
On Thursday, the Powering Chicago team of IBEW Local 134 and the Electrical Contractors' Association of City of Chicago, in conjunction with its partnership with Northwestern University, hosted upwards of 160 area high school students from 10 high schools for a STEM competition. The competition, hosted at the IBEW-NECA Technical Institute in Alsip, Illinois, featured analytical and physical challenges for each team to complete during the all-day event.

View photos from the event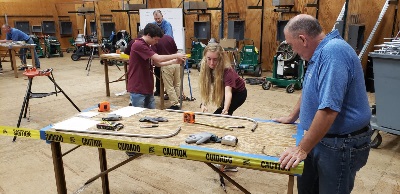 "The students will be assessing a home's load value and what the home's voltage needs are," said Gene Kent, IBEW-NECA Technical Institute Director. "Then they will be designing a solar array to go on top of that house to meet those demands. As part of that, we've also included three physical tasks. One is conduit bending, they'll be doing a climbing section, and then they'll be doing a material handling section."
The purpose of the event was to initiate high school students to the inner workings of the electrical industry all the way from a field electrician to a project manager. Many of these students have had no interaction with the electrical trade prior to Thursday's competition.
"They get to see what a local union apprenticeship is all about," explained Kent. "They get to see what union electricians do every day and they get to taste what the contractors do as well. They're getting to see what an electrician all the way to a contractor does on a daily basis."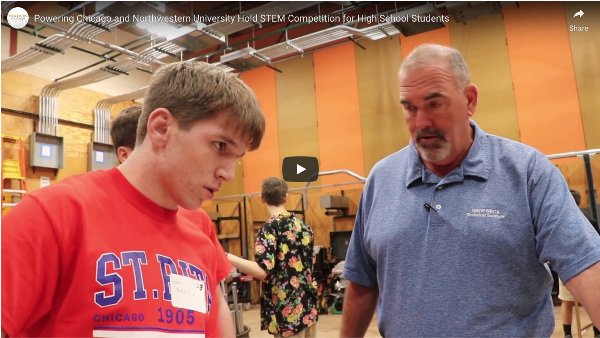 "My parents are not engineers and I don't know how to do anything hands-on in engineering," said Emily Chvatal, a junior at Downers Grove North. "I thought this would be a really good experience to see what I would actually be doing on a job like this."
Earlier this month, as part of its continued outreach efforts to area high schools, Powering Chicago and IBEW-NECA Technical Institute invited 18 students from nearby St. Rita High School to visit the training facility to better understand the electrical industry and the apprenticeship program. Because of the success from that day, St. Rita High School immediately knew they wanted their students to be a part of the STEM competition.
"We thought it would be a good idea to get our school involved with the trade," said Jill Nagel, guidance counselor at St. Rita High School. "A few weeks ago, we did a tour to let them get some hands-on work and a tour of the facility to understand this trade a little better. It was a huge success and our families were very happy with it. Gene Kent mentioned the STEM competition and we're trying to improve our STEM program, so we definitely wanted to get involved here today."
The teams of students were competing for the day's top prize: sideline passes to the Northwestern vs. UMass football game in November. And while only one team won the grand prize, each student left the event with a ticket to the game, a bag full of Northwestern gear, and a coupon code to invite their friends and family to the game at a discounted rate.
Northwestern will also hold its own STEM Day with university faculty before the November football game to extend the learning experience for the students. Powering Chicago and Northwestern have been partners since 2018.