NECA Names Pete Mastrorocco As Vice President of Education
Sep 4, 2019
Bethesda, Md.—The National Electrical Contractors Association (NECA) is pleased to announce the appointment of Peter Mastrorocco Jr. to the position of Vice President, Education. He will be responsible for developing industry courses, project management training, and the NECA Learning Center.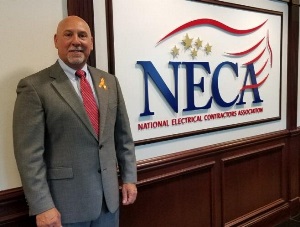 "I am looking forward to working with our contractors and staff on this new mission for our wonderful industry. There is a tremendous need for delivering knowledge in the electrical construction industry, and NECA is playing a critical role in meeting the educational needs of our contractors. I'm thrilled to help support such an important mission," Mastrorocco said.
Mastrorocco brings a history of success in developing interactive and interpersonal relationships spanning more than 30 years of diverse business experience to NECA. He most recently served as Executive Director of the Long Island Chapter of NECA, where he improved every aspect of the labor-management relationship at the local level. Before that, he was President of P&D Distribution, a Long Island-based food and beverage distributor. Previously, as Vice President of Fulfillment Operations & Florist Relations for 1-800-Flowers.com, he was responsible for managing vendor contracts and performance, customer relations, and worldwide floral order fulfillment for the floral retailer. During his 12-year tenure, he developed and implemented operational enhancements to improve the company's position as a Global retailer continually.
NECA Chief Executive Officer David Long said, "Pete brings a broad range of experience in strategic planning, analytics, as well as internal and external sales management. He has a proven record in developing performance-driven teams and meeting the needs of NECA contractors and generating meaningful results for our members. We are excited to welcome him to the team."
---
ABOUT THE NATIONAL ELECTRICAL CONTRACTORS ASSOCIATION
NECA is the voice of the $171 billion electrical construction industry that brings power, light, and communication technology to buildings and communities across the United States. NECA's national office in Bethesda, Md., and 118 local chapters advance the industry through advocacy, education, research, and standards development. Visit
www.necanet.org
for more information.
Media Contact:
Marco A. Giamberardino, MPA
Vice President, Government and Public Affairs
National Electrical Contractors Association
(301) 215-4522
[email protected]