NECA Member In New Hampshire Works on Historic Roof-Mounted Solar Array
Sep 3, 2019
A high school in New Hampshire now has the largest roof-mounted solar array in the state, and a member of the National Electrical Contractors Association played in a big role.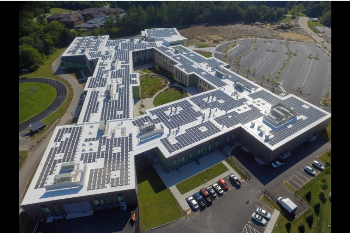 The 913-kilowatt project at Dover High School includes 2,581 solar panels. It went online in July.
Ayer Electric, a Durham-based contractor in the New Hampshire Division of NECA's Boston Chapter, was a subcontractor on the project and installed the solar panels between February and July with IBEW Local 490 electricians.
Workers installed the 320-watt solar panels, 1,432 solar optimizers, eight SolarEdge inverters, and a data acquisition system along with a complete weather station that monitors wind, outside temperature, panel temperature and sun irradiance, according to an article on fosters.com.
Learn more: https://www.fosters.com/news/20190828/dover-high-now-has-largest-roof-mounted-solar-array-in-nh
Image Courtesy ReVision Energy