Girl Scouts in Jacksonville Introduced to Electrical Industry
Aug 15, 2019
An engaged group of young women in the Jacksonville area recently spent a day learning about the electrical trade.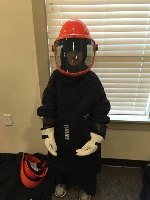 The National Electrical Contractors Association's North Florida Chapter partnered with the Electrical Training Alliance of Jacksonville and Miller Electric Company to introduce the Girl Scouts of Gateway Council to the electrical trade on July 23.
The program was designed specifically for Grades 2-8. Danny VanSickle, training director of the Electrical Training Alliance of Jacksonville, and apprentice Abigail Taylor, who currently attends the school, both had a chance to speak to the Girl Scouts and answer questions about working in the electrical field.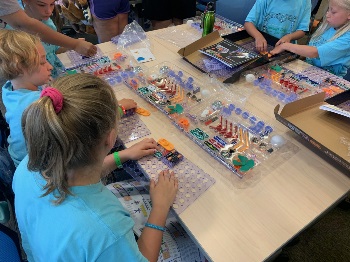 Tim Hinson and Mike Brannen, Master Electricians with NECA member Miller Electric, brought hard hats and personal protective equipment that the Brownies, Juniors and Cadettes could try on. Snap circuit kits were supplied to 44 Girl Scouts who worked on projects based on their grade levels. Taylor, Hinson and Brannen walked around to help the girls build their projects and explain what made each project work.
The Brownies and Juniors worked on two projects: a ringing doorbell and a spinning disco ball. The Cadettes, who are 11–14 years old, worked on the "Ultimate Project," which featured a complex "house" with multiple electrical items on the snap circuit board, including a doorbell, a light-up tree, a spinning disco ball and a fan.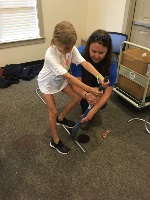 Brannen, a member of the local apprenticeship committee, hopes that projects like these spark an interest in the industry in the girls. "I would be very happy to see these young women interviewing with the committee in the not-too-distant future," he said.
Organizers said many of the young participants were excited about what they were doing and interested in learning how circuits worked, as the partnership served to be both entertaining and educational to the Girl Scouts.