OSHA Safe + Sound Week Gives NECA Members Opportunity to Review Safety Programs and Policies
Aug 12, 2019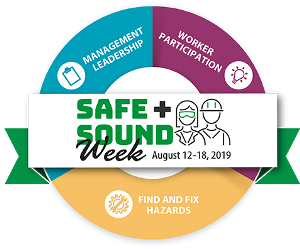 In recognition of the Occupational Safety and Health Administration's annual Safe + Sound Week campaign, NECA reminds its members that now is a great time to review safety programs and policies.

Safe + Sound Week serves as a nationwide event each August that recognizes the successes of workplace health and safety programs and offers information and ideas on how to keep America's workers safe.
NECA offers valuable safety resources to help members develop and manage their safety programs for compliance with safety regulations and consensus standards. "The resources and publications that NECA has developed help members in their quest for safety excellence in the electrical construction industry," NECA Director of Safety Wesley Wheeler said. "They are the essential tools that keep NECA and IBEW positioned as leaders in safety and keep our employers and employees safe."


Don't Take Unnecessary Risks!

To help prepare for Safe + Sound NECA has created "Don't Take Unnecessary Risks" the first in a series of jobsite safety posters for NECA member-contractors to print and utilize in their offices and on the job.



Best Practices for Energized Work

NECA and the electrical training ALLIANCE also collaborated to develop resources for Safe + Sound week, you can download the Energized Work Safety Talk and a powerpoint for instruction below. Learn more »

Download the Energized Circuits Safety Talk » Download the PPT »
Additional Resources Available Now:
Other online safety resources are posted on NECA's safety page, and include NECA's Safety Orientation Video along with links to several safety organizations and resources. Plus, you'll find more information about the Safety Meeting App, which is available to NECA members to download in the Apple Store and Google play. It provides on-the-job safety talks and the ability to document information in the cloud.


From the NECA Store:
The NECA Electrical Contractor Safety Program (Index #: 5030RK-18) is available online for members who need to develop and customize their company-specific safety program. NECA's Safety Systems Guides provide resources for members and employees to comply with the safety requirements found in NFPA 70E, Standard for Electrical Safety in the Workplace. Additionally, NECA has developed additional guides related to OSHA rules. The NECA Guide to Job Briefings (Index #: 5401-17), the NECA Guide to Respirable Silica (Index #: 5029-18) and the NECA Guide to Incident Investigations (Index #: 5026-18) are tools for employers and employees to use as part of a company safety and training program. Also available in the NECA Store for purchase, NECA has developed three pocket handbooks that are key in communicating OSHA safety requirements: Electrical Construction Employee Safety Handbook (Index #: 5028-14), the OSHA Safety & Health Standards Digest for Electrical Construction Workers (Index #: 5044-14) and the Hazard Communication Handbook (Index #: 5053-14).
Looking Ahead:
Keep the momentum going and make your plans to attend the NECA 2020 Safety Professionals Conference at the Scottsdale Resort at McCormick Ranch in Arizona on May 18-20, 2020.