Photo Gallery of Submissions for 2019 NECA Project Excellence Awards Posted Online
Jul 22, 2019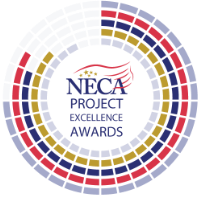 The photo gallery featuring submissions for the 2019 NECA Project Excellence Awards is now online and can be viewed at ProjectExcellenceAwards.com
The entries feature a vast array of projects small and large, from religious facilities and schools and universities, to hospitals, hotels, commercial office buildings, sports stadiums, and large solar installations.
Customers include companies such as Apple, Duke Energy, Facebook, FedEx, Jones Lang LaSalle, Merck & Co., Oracle, Nordstrom, McDonalds and Southwest Airlines as well as organizations like the Baptist MD Anderson Cancer Center, the Columbus Zoo and Aquarium, the Port Authority of New York and New Jersey, and the Boston Celtics and Milwaukee Bucks.
The 2019 winners are expected to be announced at the end of July. For more information, contact Mustafa at[email protected]or (301) 215-4556.