ELECTRI Announces Safety as Top Priority for Addressing Opioid Crisis; Releases New Research Report
Jul 22, 2019
Nationwide Opioid Crisis Impacts Contractors
ELECTRI International is taking a close look at the opioid crisis facing the construction industry. A 2017 study revealed that construction workers are among the most susceptible to opioid abuse, second only to food service industry employees. The Centers for Disease Control and Prevention (CDC) estimates the total "economic burden" of prescription opioid misuse in the United States is $78.5 billion per year, clearly costing every firm money and threatening lives.
At a recent ELECTRI Council round table discussion, participants agreed safety is the top priority for the workforce, employers, and customers. Safety is the leading driver of concern over the opioid crisis. Contractors, working with NECA's support, have adopted drug testing policies to address safety concerns and to focus on the treatment and rehabilitation needs of their employees. While drug testing policies do exist, they vary according to adoption by local jurisdictions. JATCs require drug testing according to their standards of apprenticeship which vary by region. These policies are basically standardized according to regulations adopted by the CDL trucking industry. JATCs conduct drug testing prior to enrollment.
Many NECA members have drug-free work zone policies in place. These often have procedures to refer workers to Employee Assistance Programs (EAPs) and rehabilitation. These policies can allow for the administration of panel tests. However, the medical review officer can only offer a simple "compliant/non-compliant" response to the test results, due to privacy laws.
Council members acknowledged the importance of a nationwide adoption of H.R.6, "SUPPORT for Patients and Communities Act". This is now Public Law #115-271 and has a strong policy governing opioid prescriptions. Public Law #115-271 also includes language for establishing an advisory committee to address opioid use in the workplace.
Many customers now require a contractor to show proof that the company is monitored and is "drug-free". In raising awareness, a company's statements or declarations should highlight strong programming, including interventions and treatment plans. A forceful statement also shows potential employees that our contractors care and are focused on each person's well-being.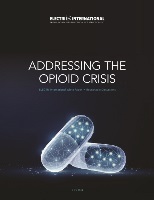 On its website, ELECTRI has posted links contractors can use to learn more about the new law and read more from the CDC on ways to address the opioid crisis in the workplace.

Download Addressing the Opioid Crisis here »