What's Really Driving Construction Technology Innovations?
Jul 18, 2019
As the construction industry moves into the future, we are seeing a blending of old and new. Collaboration is being redefined by digital workflows, resulting in contractors and owners getting up-to-the-minute information on project status and subsequent decisions. Competition is key to reducing costs and inefficiencies. In addition, as seasoned professionals retire, significant amounts of "institutional knowledge" is being lost with their departure. Technology is not only giving us a way to bridge the knowledge gap, but next gen "digital natives" are bringing an enthusiasm for technology to the workplace and the world of construction. The quest to improve safety, efficiency, quality and the bottom line will continue to drive electrical contractors to embrace technology. Electrical contractors seek to apply technologies and new products with the end-users – their workforce – in mind.
Watch 9 Construction Technology trends to watch in 2019: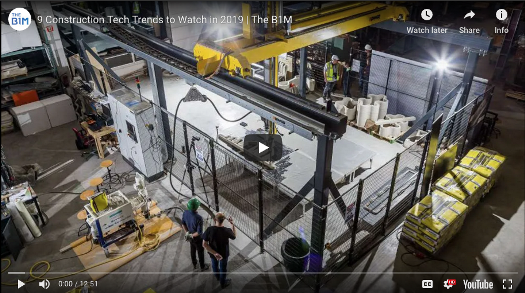 Watch on YouTube »
U.S. based construction technology startups saw an unprecedented surge in funding in just one year: up from $731M in 2017 to just over $3B in 2018 (technologies included software, hardware, AI, wearables, and autonomous vehicles). Most of these businesses sell software or hardware to a construction company seeking to solve a problem like safety, communication, distribution or productivity. Whatever the use or outcome, products or platforms geared to the worker are the most widely adopted and utilized. Competition, and workforce changes (needs and development), are the driving forces behind technology innovations for the electrical contractor and the entire construction industry.
Read what's driving tech innovations in construction:
---
NECA Technology – the Project for Applied and Disruptive Technology
, explores the world of technology and keeps members informed of what's happening today, and of what will be launched in the not-too-distant future. Dr. Joey Shorter has an extensive background in education and experience in translating the work of academics into understandable, practical ideas.