From Photovoltaics to Agrophotovoltaics to Floatovoltaics – Creating Solar Farms that Produce More than Power
Jul 18, 2019
Did you know that honeybees alone add more than $3-Billion of value to our food system? So what? Well, it's a big deal and solar farms can have an important role and huge impact in conservation of these and other critical pollinators. And guess who is on the forefront of design, installation, and maintenance of these solar farms – electrical contractors! Diverse, native landscapes on solar farm sites provide foraging habitats for wildlife including honeybees, butterflies, and song birds. The growing number of solar panel farms provides more clean, renewable energy. Likewise, these solar farms create opportunities for revitalizing landscapes while lowering maintenance costs of the panels in the first three to five years of operation.
Watch video and read more about the Netherlands' "floatovoltaics" and Cochin's "agrophotovoltaics":
The world's largest collection of solar panels will withstand high wind speeds and be able to reposition itself to track the sun. This installation covers half the surface area of the Andijk reservoir in North Holland, which is used to purify and supply 25 million cubic meters of drinking water. The flotilla of solar panels has no negative impact on the quality of drinking water produced from Andijk reservoir. Because the island of solar panels is moving, there is no fixed shadow shape. A total of 73,500 panels will eventually cover 15 "islands" and is being called "floatovoltaics".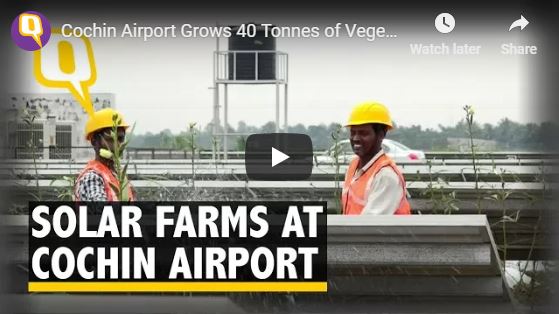 By reducing water evaporation and encouraging algae growth, similar solar projects could greatly benefit local ecosystems. India's Cochin International Airport used land underneath solar panels to grow 60 tons of vegetables in one year! "Agrophotovoltaics" can boost land use efficiency by 60 percent according to the University of Hohenheim, Germany. This an exciting part of the future of power production and distribution that everyone can get "amped" about, especially young millennials and younger Gen-Zers!
---
NECA Technology – the Project for Applied and Disruptive Technology, explores the world of technology and keeps members informed of what's happening today, and of what will be launched in the not-too-distant future. Dr. Joey Shorter has an extensive background in education and experience in translating the work of academics into understandable, practical ideas.