Creating and Transferring Power in 2119
Jul 18, 2019
What will electrical contractors be "using" in their businesses 100 years from now? From a recent New York Times article, by Carl Zimmer, we learn that "discovery eats invention for breakfast". And, as one EC, Fred Sargent of Pittsburg puts it, "When it comes to brilliant science, mankind will never out-do Nature". Long before the Edison Illuminating Company switched on its Pearl Street Power Plant in September 1882, nature had invented the first electrical power grid. In meadows, salt marshes, and muddy river bottoms, thousands of miles of wires had already been installed in the ground in the New York region before the "switch was flipped".
Read how electroactive bacteria ran current through "wires" long before we learned the trick »
Microbiologist John Stolz, Duquesne University in Pittsburgh, says, "not to sound too crazy, but we have an electric planet". He and colleague Derek Lovley have studied the microbe, Geobacter metallireducens, finding it has a very "bizarre metabolism". By feeding on carbon compounds, Geobacter strips off free electrons and transfers them to oxygen atoms. In the process, water molecules are produced. Having no use for oxygen because it lives in the river bottom, Geobacter transfers its electrons to iron oxide, or rust. This rust turns into another compound called magnetite. Years of research has led to the discovery that Geobacter is not only found literally everywhere, but by also sprouting hair-like growths (pilus), the microbe has become a "live wire" carrying electrons from the bacterium to the receptive rust. Geobacter and partnering microbes utilize a current of flowing electrons to power their own chemical reactions, even converting carbon dioxide into methane.
Watch video about electromicrobiology and the transference of power: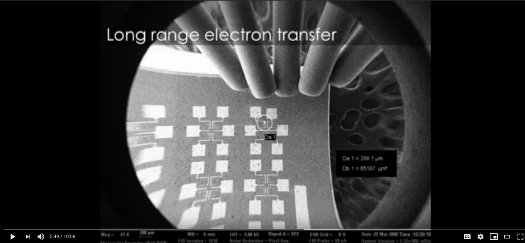 Watch on YouTube »
The future of power generation and transmission may have many advantages. "Living wires" may be easier on the environment than the man-made kind. As Derek Lovley points out, "it takes a lot of energy and nasty chemicals to make a lot of electronic materials…none of them are biodegradable". Once we know what Nature's microbial electrical wires are made of and how they work, there may be countless potential applications for powering our lives.
---
NECA Technology – the Project for Applied and Disruptive Technology
, explores the world of technology and keeps members informed of what's happening today, and of what will be launched in the not-too-distant future. Dr. Joey Shorter has an extensive background in education and experience in translating the work of academics into understandable, practical ideas.