June is National Safety Month
May 31, 2019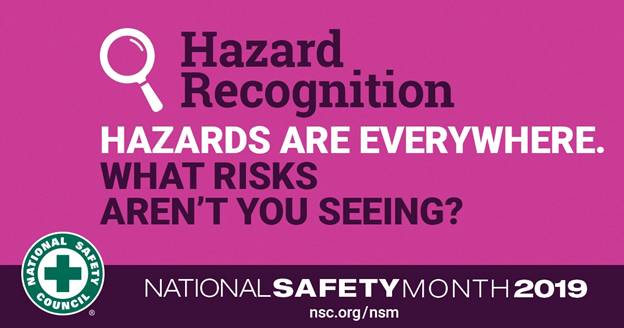 How safe are you at home, on the road and in the office?
The National Electrical Contractors Association joined the National Safety Council and thousands of other organizations across the country in recognizing National Safety Month.
June 1 marked the beginning of the annual campaign, which focuses on reducing leading causes of injury and death at work, on the road and in homes and communities.
The National Safety Council is providing downloadable resources highlighting a different safety topic for each week in June. Topics for 2019 are hazard recognition; slips, trips and falls; and fatigue and impairment.
NECA Director of Safety Wesley L. Wheeler said while safety should always be on a person's mind whether they are at work or home, it's always good to take time with family and employees to emphasize safety as a priority.
"It could be a safety talk with employees, pointing out a potential hazard to others or just reflecting on what each of us can do to be safe at home and in the workplace," Wheeler said. "Safety first, safety always."
Get free materials by visiting https://www.nsc.org/work-safety/get-involved/national-safety-month. Encourage others to take the SafeAtWork pledge at www.nsc.org/workpledge.