They're Here – Robots on the Job from Walmart to Notre Dame
Apr 25, 2019
You may have seen the recent WSJ article about Walmart's deploying of robots to control labor costs. The Walmart bots help monitor inventory, clean floors and unload trucks. With the goal of raising wages for employees and offering new online grocery delivery services, the robots are saving money in more mundane tasks that associates once performed. As the largest private employer in America, this allows the retail giant to focus on paying associates higher wages, giving them more time to do other tasks, and on hiring in growing areas like e-commerce. Read about Walmarts robots ordering stock, cleaning floors and unloading trucks »
See a short video of Colossus, Notre Dame's fire fighting robot: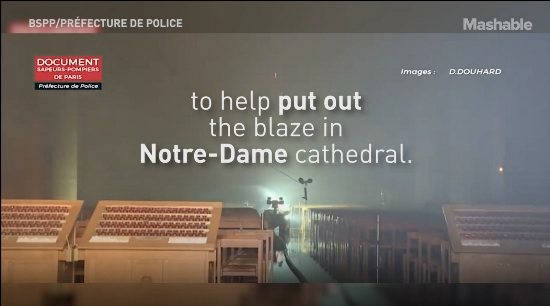 The Colossus video is very moving, with scenes from the devastating fire that destroyed most of Notre Dame Cathedral (Paris, France) last week. Colossus is the compact firefighting robot created by Shark Robotics, with a length of 5.25 feet, width of 2.5 feet, and height of 2.5 feet. It is fire-resistant, waterproof, and powered by two electric motors energized by six lithium-ion batteries. With the ability to carry more than 1,200 pounds of payload, having a modular design allowing it to be configured for different jobs, and being able to climb over just about anything, the 1,100-pound robot "is built to endure brutal conditions, operate a fire hose, carry heavy tools into a hostile environment or carry wounded people out." Colossus was sent in when Notre Dame's spire was threatening to collapse because there were still life-threatening flames to battle in saving the rest of the historic landmark.
Robots like these can be used by electrical contractors in pre-fab, delivery of tools, products and equipment, site clean-up and maintenance, routine safety measures, and even in life-saving tasks when things go wrong. ECs can put valuable employees to work in other areas when deploying robots like these on the job.
---
NECA Technology – the Project for Applied and Disruptive Technology
, explores the world of technology and keeps members informed of what's happening today, and of what will be launched in the not-too-distant future. Dr. Joey Shorter has an extensive background in education and experience in translating the work of academics into understandable, practical ideas.