Total Transformational PoE Is NOT Just for New Smart Buildings
Mar 28, 2019
First built in 1929, the Sanger Brothers Building in downtown Fort Worth, will be the "first intelligent building" in Texas, having over 2,000 lights powered using ethernet cables when completed. Sanger Brothers Department Store is now to become a residential building with 59 lofts and ground-floor retail stores. Another first, the Sinclair Building right near the Sanger, will soon reopen as a 165-room Marriott Autograph Hotel and is the "first hotel in the world" to use PoE (power over ethernet) technology to power all its lighting. Developer Farukh Aslam is bringing innovative technology to buildings from the art deco era and making them "firsts" in many categories of "intelligent buildings".
See a short video from last month on "pure POE" installation: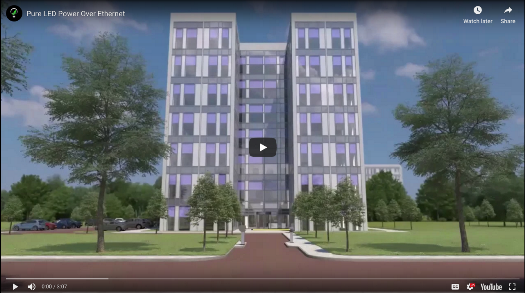 Watch on YouTube »

Aslam said that being able to communicate over IP (internet protocol) to the lighting and providing power at the same time seemed like a great idea. The developer is also adapting the technology to other devices, creating a large network communicating with each other, making efficient and intelligent decisions. "By combining the power and the network on a single cable, we're making every device in the hotel intelligent without adding another layer on top," says Aslam.
New designs and PoE transforming renovations in historic buildings »
Benefits of PoE include: using no more than 60 volts, making it safe and easy to install; it requires less material and labor, taking less to install, because it doesn't require running wire and cable for power and data; computer's have their own IP address and can find each other's network, so each light fixture can finds its own network, allowing each switch to be reprogrammed instead of having to rewire an entire room; back-up power is provided by an energy storage system instead of a generator, which is quiet and requires less space, accommodating a land-locked building, especially a historic building. PoE allows constant customization for tenants and an added level of safety. Aslam says that being able to constantly customize settings and make changes on the fly is ideal for residences and offices, "things like color temperature, occupancy sensing, and light levels can all be adjusted and customized, then changed within minutes."
Additional reading from ELECTRI International's latest research projects:
---
NECA Technology – the Project for Applied and Disruptive Technology
, explores the world of technology and keeps members informed of what's happening today, and of what will be launched in the not-too-distant future. Dr. Joey Shorter has an extensive background in education and experience in translating the work of academics into understandable, practical ideas.