Goodyear's New Aero Tire is Blimpworthy
Mar 7, 2019
The Goodyear Tire and Rubber Company, one of the world's largest tire companies, has two innovation centers, one in Akron, Ohio, and the other in Colmar-Berg, Luxembourg. The Goodyear blimp first delivered aerial coverage of a college football game back in 1955 at the Rose Bowl. "Blimpworthy" is rooted in the idea that the Goodyear blimp only shows up for the "most marquee matchups". Newsworthy = blimpworthy, and Goodyear's new two-in-one (designed for driving on the road and as a propeller for flying) concept tire for the future is definitely, blimpworthy.
Read about Goodyear's new Aero concept tire »
Transportation is undergoing a radical transformation as noted by Ulrich Spiesshofer, ABB's CEO, flanked by Antonio Neri, CEO of Hewlett Packard, speaking to more than 10,000 of us in Houston attending the 2019 ABB Customer World event. Not limited to cars, we are seeing autonomous ships carrying cargo across the oceans, and electric buses that recharge during stops. There is hardly a segment of the transportation sector that is not being reinvented.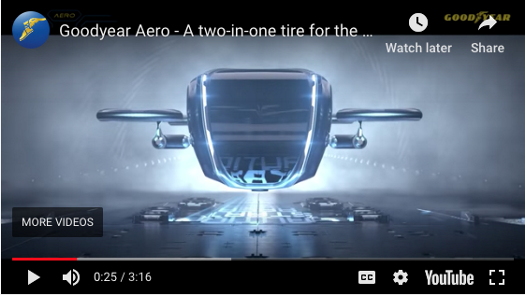 Watch Goodyear's two-in-one tire designed for autonomous flying cars »
While most automobile-related manufacturing is focusing on self-driving cars, Goodyear is getting ready for cars that fly. Tuesday also marked the beginning of the 89th annual International Motor Show in Geneva, Switzerland. The Goodyear concept AERO tire was unveiled as a tire for driving on the road and as a propeller for airborne travel. It is a multi-modal tilt-rotor concept that will rely on magnetic propulsion for flying. The spokes are designed to support vehicle weight on the ground, and to act as fan blades to provide lift for air travel. "This unique airless tire uses a non-pneumatic structure that is flexible enough to dampen shocks when driving on the road, and strong enough to rotate at the high speeds necessary for the rotors to create vertical lift."
The transformation of the transportation segment of global commerce presents new opportunities for electrical contractors in design, construction, and maintenance and in itself, is "blimpworthy".
---
NECA Technology – the Project for Applied and Disruptive Technology
, explores the world of technology and keeps members informed of what's happening today, and of what will be launched in the not-too-distant future. Dr. Joey Shorter has an extensive background in education and experience in translating the work of academics into understandable, practical ideas.