How to Build a Building Over a Half-Mile Tall
Feb 21, 2019
MOAC – the Mother of All Cranes – is being used to construct the Shell Chemicals ethane cracker plant in Potter Township, Beaver County, PA. The MOAC is more than twice as tall as the Statue of Liberty. Weighing more than 1.1 million pounds, the crane stands at about 700 feet high and can lift the equivalent of 200 school buses at one time! Defined as a "ring crane", capable of pivoting in a full circle, it increases safety and efficiency on the job site because it can complete many if not most lifts without having to move or disassemble. In the last two weeks it has been used to lift "loop reactors", the tallest structures on the Shell Chemical site. It will also be used to lift "slurry loop reactors" (so named because the product inside the pipes "is a liquid and has the consistency of a slushy"), which will produce high-density polyethylene used to make corrugated pipe among other things. A 250-megawatt natural gas-fired power plant is being built by Electrical Contractors (ECs) to power the larger chemical plant facility. This construction site will produce over 6000 construction jobs during the building process. Read about the MOAC being used to construct Shell's new plant in Beaver County, PA »
See video of the MOAC being used at the Shell Chemicals ethane cracker plant site: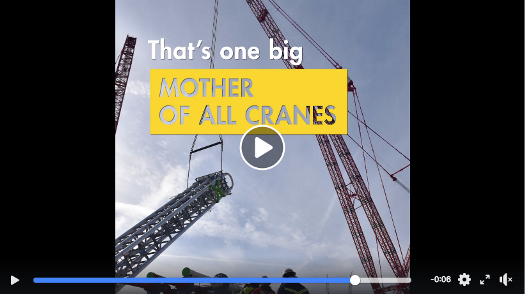 Watch on Facebook »

Oliver Wainwright recently wrote about a new breed of needle-like tower popping up in the Manhattan skyline. The super-tall, super-skinny, super-expensive "pencil towers" embody the 21st-century age of technical ingenuity. These super-tall structures are the product of advances in construction technology. The architect of 432 Park Avenue, Raphael Vinoly, says his design was inspired by a trash can. The penthouse sold for $95M, which isn't exactly garbage. Not far away, 220 Central Park South is being constructed using silvery Alabama limestone, with apartments selling for more than $10K per square foot (the penthouse sold for $238M, the most expensive home ever sold in the U.S.)! These super tall buildings, some of which are being designed by the architects of Dubai's Burj Khalifa, also have the biggest pools, highest health clubs, and farthest-reaching views. There is no MOAC for these structures, but they do utilize a series of intermittent smaller cranes, often owned and operated by ECs. ECs will continue designing and building from the ground up and up and up…
Read about the super tall pencil towers of New York »
---
NECA Technology – the Project for Applied and Disruptive Technology
, explores the world of technology and keeps members informed of what's happening today, and of what will be launched in the not-too-distant future. Dr. Joey Shorter has an extensive background in education and experience in translating the work of academics into understandable, practical ideas.