In the Next 2 Years, What New Position Will You Add to Your Staff?
Jan 31, 2019
Because of the increase of "intelligent things" (cars, homes, buildings, tools, etc.) and the increase of "intelligent Apps" (personal software for just about anything), more than 20% of business and enterprise will hire dedicated people to monitor and guide machine learning or artificial intelligence (AI). Your employees will be working smarter. More than 40% of data science tasks will be automated resulting in increased productivity. Innovation and real time enterprises such as augmented reality in design-build are enhanced by data from the Internet of Things (IoT) and the acceleration of AI in everything we do. Electrical Contractors (ECs) are no longer just the installers of power sources. ECs are creating their own AI strategies to lead the conversation with customers whose organizations do not want to risk getting left behind in the next-generation data technologies.
See video of construction embracing technology (AutoDesk):
Digital technology has transformed the way we interact with the world. Machines, processes, people and data are becoming more and more connected. We have an explosion of information that can be used to understand customer needs. Look at the auto industry. It has moved rapidly through three stages of artificial intelligence: assisted intelligence (cruise control); augmented intelligence (lane detection systems); and autonomous intelligence (self-driving cars). Artificial Intelligence is just one of a half-dozen technologies explored in the 2019 Tech Trends report by Deloitte. Maybe your electrical contracting business will employ a business intelligence developer, or a machine learning engineer to consult and coordinate on your next data center project. Read more about AI-fueled organizations »
The chart below shows AI Top Jobs (from ZaranTech):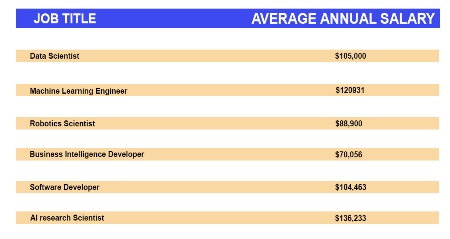 ---
NECA Technology – the Project for Applied and Disruptive Technology
, explores the world of technology and keeps members informed of what's happening today, and of what will be launched in the not-too-distant future. Dr. Joey Shorter has an extensive background in education and experience in translating the work of academics into understandable, practical ideas.