Week in Review
Nov 6, 2023
House Passes Energy & Water Funding Bill
After Speaker Mike Johnson (R-LA) was sworn in as the 56th Speaker of the House of Representatives, his first major hurdle was passing funding bills for FY 2024. That began with consideration of H.R. 4394, the FY24 Energy and Water Development and Related Agencies appropriations bill. The measure passed by a 210-199 vote with just one Republican voting against it. The bill is one of 12 annual funding bills House Republicans have crafted over the past several months. The House, which had already passed four partisan funding bills prior to October, now aims to pass the remaining seven funding bills in the coming weeks, as Republicans seek to strengthen their hand in eventual spending talks with the Democratic-led Senate.
NECA's Take: NECA was able to work with Members of Congress to ensure the following in the House-passed version of the legislation:
Blocking the January 2023 revised definition of 'Waters of the United States'
Increase funding for high-assay low enriched uranium (HALEU) availability, which is essential to reduce U.S. reliance on foreign uranium sources to power current and future commercial nuclear reactors
Funding for small modular reactors and advance reactor demonstration projects
$200 million for production of critical materials
These provisions will help NECA contractors continue to work on projects without burdensome regulations as well as spur new job opportunities in the future.
$1.3 Billion for Power Lines
On October 30, 2023, the Department of Energy announced $1.3 billion for power infrastructure across six states. This investment will allow 3.5 gigawatts of electricity to come into the power grid. Selected projects include the following:
The Southline transmission line aims to deliver renewable energy from New Mexico to high-demand centers in Arizona. The 280 miles of high voltage transmission will stretch from the border of Texas and New Mexico to Tucson, AZ.
The Twin States' Clean Energy Link aims to bring Canadian hydropower into New Hampshire and Vermont.
The Cross-Tie transmission line will stretch 214 miles and be capable of carrying 1,500 megawatts between Utah and Nevada.
Cross-Tie and Southline are expected to begin construction in 2025 and come online in 2027. Twin States will begin construction in 2026 and come online in 2028.
NECA's Take: This funding is a part of the NECA-supported Infrastructure Investment and Jobs Act. The immense infrastructure investments made over the past few years can only be effective if grid infrastructure is also prioritized. NECA will continue to work with the appropriate agencies as they determine the regulatory guidance that accompanies funding from the infrastructure legislation.
NECA Comments on IRA Prevailing Wage and Apprenticeship Requirements
On August 29, 2023, the Treasury and the IRS formally proposed rules on the Inflation Reduction Act's (IRA) prevailing wage and apprenticeship requirements. The new regulations mark the first-time developers have received guidance on complying with the IRA's requirements since November 29, 2022. The IRS initially released guidance on the requirements and notified the public that those requirements would go into effect for qualified facilities beginning construction on or after January 29, 2023. A public hearing on the new regulations will be held on November 21, 2023, where the Treasury and the IRS will consider any public comments submitted.
NECA's Take: NECA submitted comments to the Treasury Department responding to various questions, such as:
Ensuring robust compliance system so developers can't cheat on prevailing wage and apprenticeship utilization.
Allowing PLAs to be treated as evidence of compliance for the prevailing wage and apprenticeship utilization.
Implementation of the new 2023 Davis-Bacon Regulations.
Ensuring all NECA-IBEW JATCs receive outreach when asking for apprentices.
Including strong standards for the 'One Megawatt exception'.

The full regulatory comment letter can be found here.
Chairman's Challenge: Southern Sierras Chapter Meets with Rep. Pete Aguilar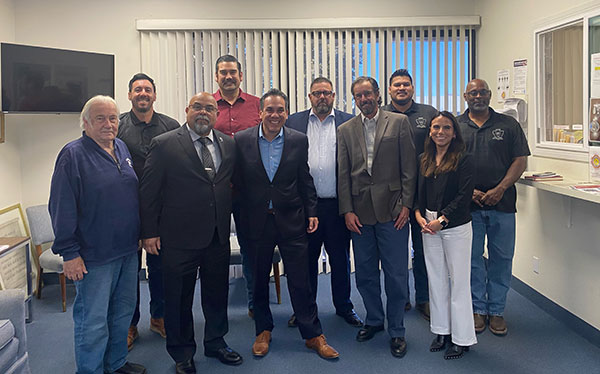 On October 31, 2023, members of the Southern Sierras Chapter met with Rep. Pete Aguilar (R-CA). They discussed local construction and received an update from Rep. Aguilar. Pictured are members of IBEW Local 477, Southern Sierras Chapter President Larry Strohm of Big Sky Electric, and Southern Sierras Chapter Executive Ashley Berg.
NECAPAC Update
Special thanks to Todd Mikec of Lighthouse Electric, Ed Witt of Miller Electric, Scott Thompson of Thompson Electric, Evan Rogers of Chewning & Wilmer, and Tricia Frate of VEC Inc. renewing their PLC memberships!

Congratulations to the Greater Cleveland and North Texas Chapters on reaching their 2023 NECAPAC Goals!
NECAPAC Total 11/6/23 - $638,340
Operational Fund Total 11/6/23 - $322,304
NECA On the Move
Over the past three weeks, NECA's Government Affairs team met with the House Education and Workforce Committee, Senator Eric Schmidt (R-MO), the House Appropriations Committee, Rep. Marcy Kaptur (D-OH), and Rep. Guy Reschenthaler (R-PA).