Week in Review
Sep 8, 2023
Treasury Releases Proposed Rule on IRA Prevailing Wage and Apprenticeship Utilization
On August 29, 2023, the Department of Treasury released a Notice of Proposed Rule Making on the prevailing wage and apprenticeship utilization requirements of the Inflation Reduction Act (IRA). This follows previous interim guidance that the Treasury Department released in November of last year detailing the requirements to follow within the provisions.
NECA's Take: NECA submitted sub-regulatory joint comments with the IBEW, advocating for strong classification standards and the usage of NECA-IBEW registered apprenticeship programs. NECA is reviewing the proposed rule and will be submitting comments. For other IRA related questions, please use NECA's IRA Resource Page.
Energy Releases $300 Million to Streamline Transmission Permitting
On August 29, 2023, the Department of Energy announced over $300 million to support State, local and tribal siting and permitting activities to advance the transmission buildout. The funds will help support streamlining federal reviews, support new and upgraded lines, and fund studies and other planning needs.
NECA's Take: This comes at a critical time with new energy projects such as solar, wind, geothermal, nuclear, and other energy projects beginning to come online. These projects will need new and upgraded transmission lines to be able to connect to the grid. NECA continues to advocate for a streamlined permitting process to meet America's growing energy needs.
19 Days Until Government Funding Deadline
As Congress surpasses the three-week mark until the September 30th deadline to fully fund the federal government for FY 2024, the Senate announced their plans to begin floor debate on a "minibus" funding package, as early as next week. Senate Appropriations leaders, Patty Murray (D-WA) and Susan Collins (R-ME) announced a funding package that will include three fiscal 2024 funding bills for the Department of Veterans Affairs (VA), Transportation and Housing and Urban Development, as well as the Food and Drug Administration. This would be the first appropriations legislation brought to the Senate floor. This short-term spending measure, often referred to as a Continuing Resolution (CR), will be a necessary measure in order to buy more time to negotiate a longer-term spending deal.
NECA's Take: NECA supports the bipartisan efforts made by the Senate to avert a government shutdown with this CR. NECA has evaluated the Construction/VA legislation that includes $1.6 billion for major and minor construction and further provides $164 million for construction of State extended care facilities, and $60 million for construction of state, territory, and tribal veterans cemeteries. We will continue to monitor funding legislation progress as the House returns from recess next week. NECA's top priority is to ensure federal construction accounts remain fully funded.
Chairman's Challenge: Long Island Chapter Meets with New York Delegation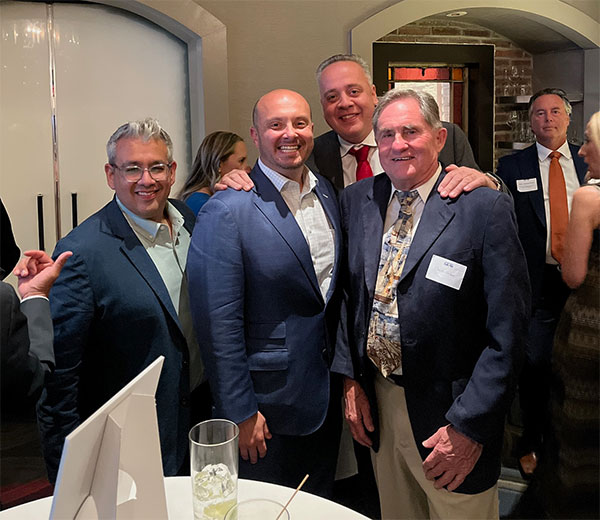 On August 30, 2023, members of the Long Island chapter met with Rep. Andrew Garbarino (R-NY), Rep. Nick LaLota (R-NY), Rep. Anthony D'Esposito (R-NY), Majority Leader Steve Scalise (R-LA), and former Congressman Peter King. They discussed issues impacting the electrical construction industry. Pictured from left to right is Thomas DePace of Advance Sound Company, Rep. Garbarino, Dan Sanchez of John Paul Electric, and Charles Gardner of the Long Island Chapter.
NECAPAC Update
NECAPAC Total 9/8/23 - $438,580
Operational Fund Total 9/8/23 - $295,304
NECA On the Move
Over the past three weeks, NECA's Government Affairs team met with Senator Steve Daines (R-MT), Senator Shelley Moore Capito (R-WV), Senator John Cornyn (R-TX), Senator Deb Fischer (R-SD), Senator Chuck Grassley (R-IA), Senator Bill Hagerty (R-TN), Senator Cindy Hyde-Smith (R-MS), Senator Ron Johnson (R-WI), Senator Roger Marshall (R-KS), Senator Markwayne Mullin (R-OK), Senator Eric Schmitt (R-NE), Senator Dan Sullivan (R-AK), and Senator Roger F. Wicker (R-MS).