Workers Compensation:The NECA West Alternative Dispute Resolution (ADR) program is the core insurance program for members of the National Electrical Contractors Association in California. The program accelerates claims settlements by reducing attorney involvement in the process and maylower your workers' compensation premiums. The NECA West ADR program is the only ADR program endorsed by both the IBEW and NECA, and approved by the State of California.
The ADR program works in conjunction with the NECA members' workers' compensation insurance provider (whether an insurance carrier or the State Fund).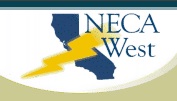 Health Insurance: A number of health insurance options are available for NECA contractor office personnel (who may not be covered by a CBA plan) through the Cal NECA Health Plan. Options include Blue Shield, Kaiser, Delta Dental and Vision Service Plan.