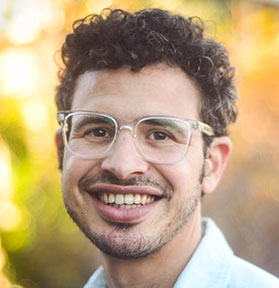 Adam Smiley Poswolsky
Adam "Smiley" Poswolsky is an internationally renowned keynote speaker, workplace belonging expert, and bestselling author of three books: The Quarter-Life Breakthrough, The Breakthrough Speaker, and Friendship in the Age of Loneliness.
Smiley regularly speaks at Fortune 500 companies like Apple, Google, Facebook, Deloitte, Unilever, and Verizon. Smiley has advised heads of state and foreign leaders about Gen-Z, Millennials, and the future of work. Smiley's inspiring keynotes will help you attract and retain the next generation of talent, engage the multigenerational workplace, create a culture of belonging, manage hybrid teams, and turn The Great Resignation into The Great Reconnection.
Smiley's TED talk on "the quarter-life crisis" has been viewed over 1.7 million times, and he has spoken in front of fifty thousand people in twenty five countries. Smiley has spoken at Stanford University's Graduate School of Business, University of California-Berkeley's Haas School of Business, and the Federal Reserve Bank. Smiley's writing has been published in Harvard Business Review, Fast Company, and the Washington Post, and his work has been featured in the New York Times, the New Yorker, the Wall St. Journal, and the World Economic Forum.