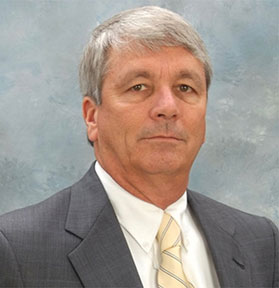 Kirk Davis
President, NECA
Bob Davis Electric Company Inc.
Hailing from a family of electrical contractors, Davis graduated from Louisiana State University in 1975. After graduation, he entered the JATC apprenticeship and successfully completed the program in 1979. Davis worked as a journeyman for several years until assuming a management role in 1984. After taking on leadership responsibilities, Davis worked with the day-to-day production as well as estimating bids, personnel decisions, and contract negotiations.
Bob Davis Electric Co. Inc. was founded in Shreveport, La., in 1922 by Robert Milton "Bob" Davis, Sr. After Bob's death in 1946, his son, Robert "Milton" Davis, Jr. took over leadership of the company and was named president. Upon Milton's retirement in 1990, Kirk Davis assumed the role as president of the company and served as president until April 2019. Davis's son Todd Davis took over the duties as president at that time and continues in that capacity today. Bob Davis Electric is Shreveport's oldest operating electrical contractor and does work throughout Louisiana and East Texas. The company covers all areas of electrical services, specializing in residential, commercial, and light industrial with an emphasis on power requirements for telecommunications companies, generator installations, and retail maintenance.
Bob Davis Electric joined NECA in 1923. Since then, the company has been actively involved with NECA at the local and national level. Kirk Davis became involved when he attended his first national convention in 1979 in San Francisco. Locally, Davis has served on the Board of Directors and the Negotiations Committee and as Vice President and President. He has been elected to multiple terms as Governor of the North Louisiana Chapter, NECA. He also served as President of the Louisiana Council. Nationally, Davis served on the Marketing Committee, the Disaster Relief Fund Committee, and the Workforce Development Committee. He was inducted into the Academy of Electrical Contracting in 2011. Davis has served as NECA's District 3 Vice President for the last four years.
Davis has observed a gradual improvement in labor relations and working conditions for employees over the years, adding that there is now a heavier emphasis on better safety training and the needs of contractors to be successful. NECA offers members valuable resources through field services and educational programs.
Kirk has been married to his wife Becky for 46 years. They have two adult children, Todd and Tricia, and five grandchildren, with whom they enjoy spending time. Family activities include beach trips, spending time at the family farm, family lake house, and attending LSU tailgates. Kirk and Becky are active in their church, First United Methodist Church of Shreveport.