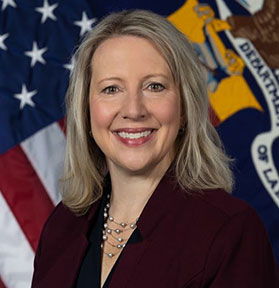 Jessica Looman
Principal Deputy Administrator, Wage and Hour Division
U.S. Department of Labor
Jessica Looman has served as the Principal Deputy Administrator of the Wage and Hour Division (WHD) of the U.S. Department of Labor. WHD enforces worker protections and provides outreach and education about federal labor laws including minimum wage, overtime, child labor, and family and medical leave for 148 million workers and nearly 10 million employers nationwide. The Wage and Hour Division is committed to protecting the rights of low-wage, vulnerable workers and is focused on addressing misclassification and retaliation for these workers.
Before joining WHD, Jessica served as the Executive Director of the Minnesota State Building and Construction Trades Council, where she advocated to expand construction career pathways, protected the physical and financial health of union construction workers, and increased private and public investment in construction infrastructure.
Before joining the Building Trades, Governor Mark Dayton appointed Jessica to serve as Commissioner of the Minnesota Department of Commerce. She also served as the Deputy Commissioner and the Assistant Commissioner for the Minnesota Department of Labor and Industry where she oversaw the strategic coordination of DLI's five divisions. She has previously served as the General Counsel of the Laborers District Council of Minnesota and North Dakota.