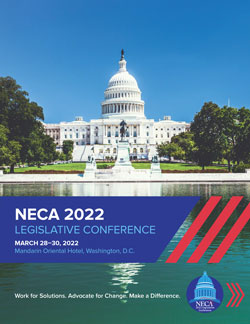 Mandarin Oriental
Location: Washington, DC
Contact: Katie McCormick
Email:

[email protected]

Phone: 301-215-4506
Schedule
Monday, March 28th
| | |
| --- | --- |
| 3:00 PM - 5:30 PM | Opening Session |
| 5:30 PM - 6:30 PM | Welcome Reception |
| 7:00 PM | Dinner on your own |
| 9:00 PM | PLC Drinks and Cigars Reception* |
*open only to members of the Political Leadership Council
Tuesday, March 29th
| | |
| --- | --- |
| 8:00 AM - 9:00 AM | Breakfast at hotel |
| 9:00 AM - 12:00 PM | Policy Discussions |
| 12:00 PM - 1:30 PM | Lunch |
| 2:00 PM - 4:00 PM | Remarks from Members of the 117th Congress |
| 5:00 PM - 6:30 PM | Networking Reception |
| 7:00 PM | Dinner on your own |
Wednesday, March 30th
| | |
| --- | --- |
| 7:30 AM - 9:00 AM | Grab and Go Breakfast |
| 9:00 AM - 5:00 PM | Capitol Hill Meetings |
| 5:00 PM - 6:30 PM | Congressional Reception |
| 7:00 PM | Government Affairs Committee Dinner* |
*open only to members of the Political Leadership Council
COVID-19 Safety Protocols
Update: Beginning February 15, Washington DC no longer requires proof of vaccination in indoor venues. These changes mean attendees of this year's Legislative Conference will not be required to wear masks or show proof of vaccination at the Mandarin Oriental hotel. However, government facilities will still require masks and certain individual establishments in the city may choose to enforce vaccination and masking requirements.
The NECA Government Affairs team is working to provide an enjoyable and productive conference. The Capitol Complex remains closed to the public under the direction of the Speaker of the House and Majority Leader of the Senate, in accordance with the Office of the Attending Physician (OAP).
The OAP continues to recommend maximum teleworking for all Congressional offices. However, each Congressional office can set its own policy in regarding to meeting with official business visitors (OBV).
NECA will work with each office to maximize in-person meetings at an unofficial location on Capitol Hill, such as the NECA Government Affairs Office or a traditional Capitol Complex office visit.
For those visits within the Capitol Complex, please be advised the following protocols are in place:
OBV access will require a staff escort at all times in all areas until further notice. In addition, all offices must provide meeting and guest information for visitors so badges can be provided. This will enable U.S. Capitol Police to readily identify OBVs. In all cases, Members, staff, and visitors must maintain 6-foot social distance spacing as much as practicable when in the offices or the Capitol.
Please note the following guidelines that will be in effect for all visitors:
Official business visitors to House Office Buildings must be met by House staff at a designated door.
Visitors must be escorted by staff at all times.
An individual Member and/or staff person may escort a maximum of five (5) visitors at a time, for a total group size of six.
Staff and visitors must practice meaningful social distancing while part of the group and must wear masks.
All guests must wear a well-fitted surgical mask that completely covers the nose and mouth.
The mask should be worn for the entirety of the visit from start to finish. Surgical masks will be provided to them if they do not already have one as part of their visit. Should a visitor(s) be noncompliant with coronavirus social distancing guidelines, they may be subject to removal from the building.
Prior to a visit, the sponsor of the visitor must attest that each visitor has completed a daily health survey and that the survey was negative prior to their visit.
All appointments (with a full list of names) must be submitted in writing to the Sergeant at Arms prior to their appointment.
Official Business Visitors must check in at the designated appointments desk where IDs will be checked and badges will be issued.
Some offices my require proof of vaccination status.
Please note that the Capitol and Capitol Visitors Center remain closed to all tours, including Member, staff-led and public tours. In addition, the House Gallery remains closed to all visitors as well as Committee Rooms.
We sincerely thank you for your understanding during this entire process. These protocols are not in NECA's control. Congressional meetings will be encouraged to take place outside of the Capitol Complex for more flexibility. If you have any questions, please email [email protected]